School Uniform
Wearing school uniform is an essential part of school life as it helps the children to take pride in their school and gives them a sense of identity.
Our school uniform is shown in the table below and can be purchased via the link on the right. You can select free delivery to school or home delivery for a small charge.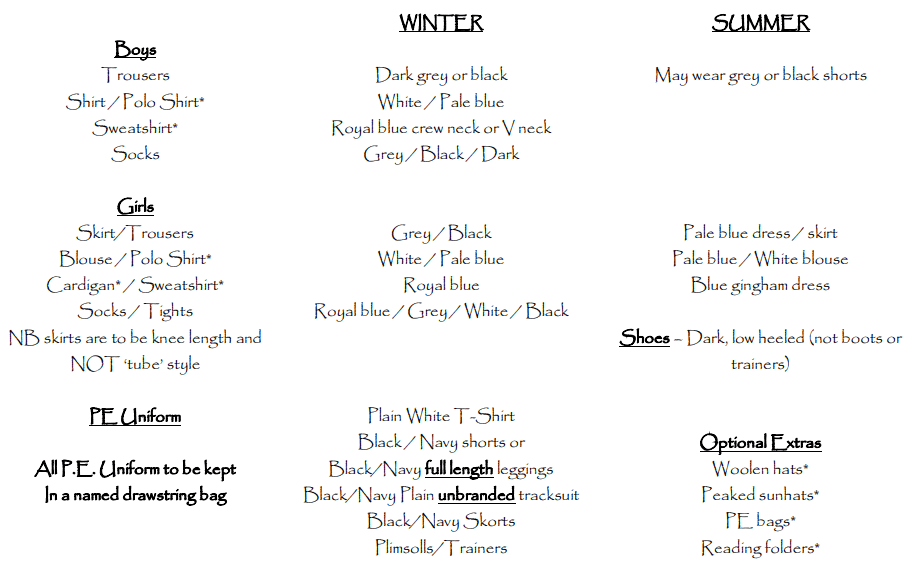 Jeans are not allowed and the wearing of jewellery and earrings (with the exception of stud earrings, which must be removed for PE lessons) is forbidden. If children are having their ears pierced for the first time, we recommend that this is done in the summer holidays to allow the ears time to heal.
If at all possible, it is also always better to have long hair tied neatly for school, again to stop the risk of injury. Bizarre, highly unusual or multi-coloured hair styles are not acceptable, nor are shaved heads. Hair should be one natural colour.
Tracksuits are not to be worn in school, unless used for outdoor PE lessons. Full PE kit is to be worn every PE lesson and should be brought into school on Monday and taken home on Friday for washing.