Fundraising and Charitable work
Throughout the year we hold various events to help raise money both for the school and other worthy causes, such as Children in Need, Read to Feed and Red Nose Day. We have also supported local good causes a little closer to home including monthly litter picks and fundraising for the Children's Cancer Fund who have been such a support for one of our pupils.
Being of service to our local community
Bedale Litter Pick
On the 3rd Sunday of every month, a growing group of pupils and parents gather to pick up litter around the town. Rain or shine, we have helped to tidy up the park, the High Street, the canal and further afield. It is so good when local people thank us for helping to keep Bedale beautiful.
We have a number of other community initiative ideas. We can't wait to get started as soon as we are able.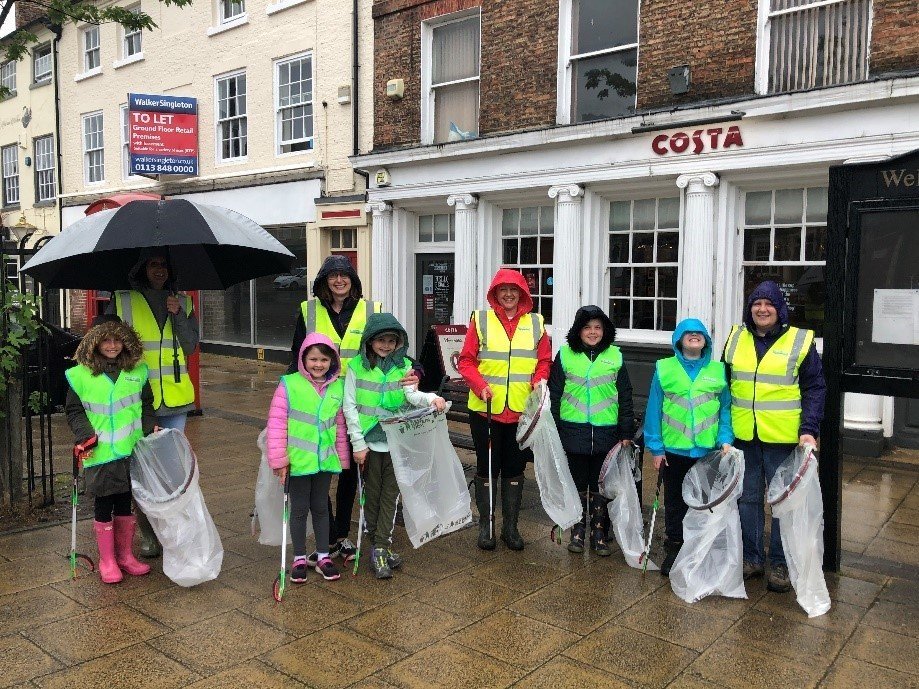 Wear Blue for Bailey
In March of 2020, one of our pupils received a cancer diagnosis. His treatment has been long and gruelling but he has dealt with everything that has been thrown at him with bravery and determination. The Children's Cancer fund has been an incredible support for him throughout his treatment and. His family and the school wanted to support their efforts and find a way to say thank you. Wearing blue, in recognition of his favourite football team, Chelsea, the day and fundraising effort was a terrific success.
We are thrilled to have raised a grand total of £12,714 for the Children's Cancer Fund. This is such an incredible amount and will make a huge difference to the lives of children and young people receiving care in hospital. Thank you so much for your generosity and support.
Children in Need
Each year we raise money in school for Children In Need through dressing up and taking part in lots of fun activities. In November 2020, we all took part in active challenges throughout the day including Joe Wicks 24 Hour Children in Need Challenge. Considering the current situation, we were delighted to raise just over £380 in our Covid-style appeal.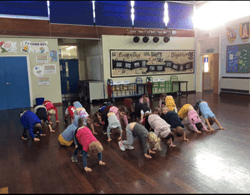 Rainforest
As part of our rainforest topic, the pupils in Six regularly raise money in support of a charity which helps look after this vital resource for our planet.
In Autumn 2019 we raised almost £300, which we are going to use to buy an acre of rainforest and to sponsor a rainforest animal through The World Land Trust. This brings the total raised over the last few years to over £700, meaning that we have helped save five acres of precious rainforest in that time.

Mettupalayam
For twenty years now, we have had links with Mettupalayam in India, supporting the work of the Friends of Mettupalayam (FOM) -click the banner above to visit the Friends of Mettupalayam website.
FOM is a village-based project supporting children and adults in a very poor rural area of Tamil Nadu, South India. The project, founded in 1985, centred mainly on children, improving their future lives and health through education and better nutrition. In recent years, they have also expanded support to include the elderly, and the disabled.
At Bedale Primary School, we have been involved in raising money for development projects such as building a new school and buying resources to help the community. Each year, we have at least one event that supports this project. In previous years, members of staff have visited India as well as having guests from the village here in Bedale to see our school. If you want to know more about our recent work and links with Mettupalayam click here.
The Great North Air Ambulance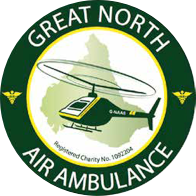 We regularly send home collection bags from The Great North Air Ambulance and have discussed their important work in class or during our Collective Worship time.

Benkhill Lodge Care Home
At Bedale Primary, we love to help cheer people up in the local community. In late January 2021, EYFS chose to sing and record three of their favourite nursery rhymes for the people in Benkhill Lodge Care Home. As part of their music sessions, they focused on singing and learnt a range of different nursery rhymes; they decided the people at Benkhill would like to hear 'I'm a little teapot', 'The Grand Old Duke of York' and 'Twinkle Twinkle Little Star'. The children also included some actions and filmed their efforts which they hoped the residents at Benkhill would love to see. The residents certainly did enjoy the performances and kindly sent 'Thank You' cards to school to show their appreciation.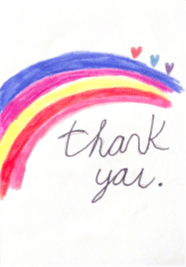 Postcards From Paddington
We have very caring children here at our school. In February 2021, Theo in Year 5 was given some money for his 10th birthday from his grandparents. Thoughtfully, he wanted to do something in which children of the world would benefit. He has spent it on a year's subscription to UNICEF and has requested that the Postcards from Paddington be sent into school so that our children can learn about children from other countries. What a lovely thing to do!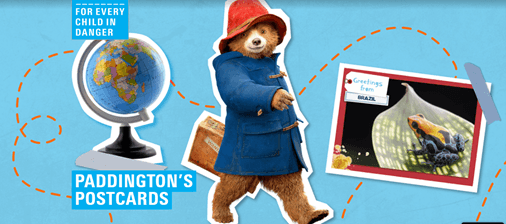 Friends of the Friarage
Recently, Friends of the Friarage Hospital in Northallerton asked for help with designing a new logo for them. In February 2021, one of our Year 4 children, Emily K, found out that her design was one of the winning ones! Emily received a £10 gift voucher as her prize but she was just happy to take part and loved creating her design. Here is her entry – how fabulous!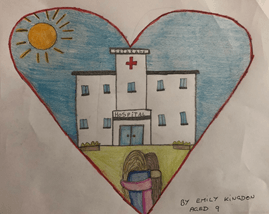 Vaccination Artwork
All the children at Bedale Primary were invited to design and produce a poster or piece of art work that could be displayed at the Covid Vaccination Centre in Ripon. Their request was for happy, positive and colourful pictures to brighten up the reception area. Our children are always happy to help others, especially when it comes to cheering people up! They produced some lovely drawings which were laminated and displayed at the centre.
Fun Run
Every year in the Summer Term, we hold our annual Fun Run on the school field, which has been a fixture of the school summer for over a decade now. With stalls organised and managed by the Year 6 children, this is always an exciting and popular event for the rest of the school to join in with. Each year, the children decide on a different charity they would like to support.
Other charities
There are a number of other charities that we have able to support over recent years, including: Comic Relief (Red Nose Day), One Love Manchester, Motor Neurone Disease Association, Band Aid 30, Help for Heroes, Teenage Cancer Trust, Send a Cow and Wear it Pink - Breast Cancer Campaign.